Zoppé Family Circus
Friday, January 11 - Monday, January 21 | Extended Showtimes
Friday, January 11 - Monday, January 21 | Extended Showtimes
Zoppé, an Italian Family Circus, Fifteen Performances!
In 1842, Napoleone and Ermengilda Zoppé started a circus near Venice. Their old-world traditions return to Tucson when Zoppé makes its Eighth annual visit in January of 2019.
Touring with its own one-ring tent, Zoppé doesn't dazzle with high-tech effects or captive wild animals. Instead, it celebrates the European circus arts, whose appeal depends on acrobatic feats, jugglers, dancing dogs, aerialists and brilliant comedic clowning, all in an intimate 500 seat setting, conveniently located near downtown Tucson.
According to Giovanni Zoppé, the sixth-generation circus artist who stars as Nino the clown: "The show aims higher than what usually passes for a circus these days. We touch every emotion. People laugh, they cry, and they feel for the characters."
Another Weekend of Zoppé Family Circus
 BY POPULAR DEMAND EXTENDED DATES!!!
*Discounts Are Available for Furlough Federal Employees at the Ticket Booth one hour before showtimes with Government I.D. for the Extended Weekend
Friday, January 25th, 10am – Special Kid Show 10am for $10
Friday, January 25th, 7 pm
Saturday, January 26th, 1pm, 4pm & 7pm
Sunday, January 27th, 1pm
TICKETS ARE ALSO AVAILABLE AT THE TICKET TENT 1 HOUR BEFORE SHOWTIMES!
IF BROWN PAPER TICKETS SALES END
Click Brown Paper Tickets Icon Below To Purchase Tickets!
Use Brown Paper Tickets $5 Discount Password Zoppe19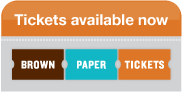 FREQUENTLY ASKED QUESTIONS —
Q: Where is Mercado San Agustin?
A: Mercado San Agustin is near downtown Tucson just west of Interstate 10. Approaching the site on West Congress Street, you can't miss that beautiful tent.
Q: What are my options for transportation and parking?
A: Take any westbound streetcar directly to the site. Again, you can't miss that beautiful tent. There is ample street parking and several accessible vacant lots near the tent. We used the same site last year, and there were no parking problems
Q: Do young children need tickets?
A: Guests two years of age and younger can sit on an adult's lap without a ticket. Tickets for guests 3 to 17 years old are at a reduced rate.
Q: Are discounted tickets available for adults?
A: Yes. Look for a "Four-Pack" among the tickets options. Four-Packs can be used by guests of any age.
Q: How long does the performance last?
A: Just under two hours. And if you arrive a bit early, you're likely to catch some of the circus artists entertaining the crowd outside the tent.
Q: Will small children be frightened?
A: Unlikely. The Zoppé circus uses no wild animals, black-outs or aggressive special effects.
Q: Are the animals used in the show treated humanely?
A: Yes. Zoppé uses only domesticated dogs and horses. Before and after some performances, children are invited to visit the animals backstage.
Q: Are tickets refundable?
A: No, but they are transferable.
Q: Are seats reserved?
A: Within each section seats are not reserved. The tent is not large, so there is a good view from every seat.